DILO Certified Gas
Competence as a principle
With our competence in gas handling and more than fifty years of experience in handling sulfur hexafluoride (SF6), we have been able to expand our range of services to include "DILO Certified Gas".
DILO Certified Gas covers the supply of pure gases and gas mixtures as well as the return and reprocessing of used gas. To this end, we provide our customers with the analytical expertise of our DILO laboratory as well as all services related to gas handling (TÜV inspections of pressure vessels, support with logistics etc.) Our "DILO Certified Gas" seal of approval stands for the high quality of our products and services in the field of SF6 gas, but also alternative insulating gases and gas mixtures such as Bl 3M™ Novec™ 4710 (C4) or 3M™ Novec™ 5110 (C5).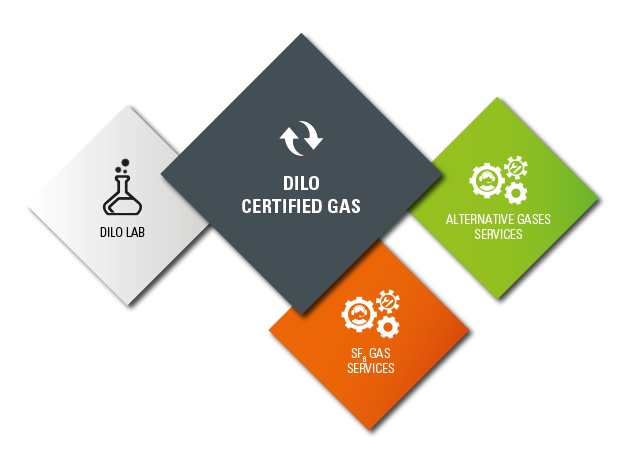 DILO Certified Gas
Alternative insulating gases and specific gas mixtures.
Supply of reprocessed SF6 in new gas quality.
Take-back of used SF6 gas
Processing of used SF6 gas for reuse
Certified gas analyses in our own laboratory
Lending of pressure vessels (cylinders, tanks etc.)
TÜV re-testing of pressure vessels
Suction, repainting, relabeling and valve exchange of pressure vessels
Loan of service and measuring equipment for emission-free gas handling at the customer's site
Logistic support and deliveries according to valid transport regulations
Takeover of the entire gas handling area at the customer's site
Quality features of DILO Certified Gas:
Permanent control of the gas quality of the reconditioned gases
Deliveries always with DILO certificate
Deliveries exclusively with TÜV-certified pressure vessels
Preparation of documents: Mass balance of SF6 and alternative gas, weighing and measurement reports in the course of SF6/alternative gas monitoring
Fast turnaround and processing times for orders
Separate work areas for materials and pressure vessels (of SF6 gas and "alternative gases"). In this way, the mixing of gases can be excluded.
You would like to contact us about DILO Certified Gas?
Certified-gas(at)dilo-gmbh(dot)com